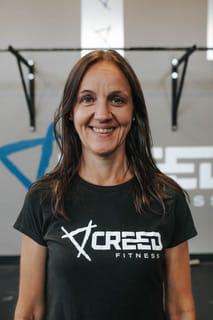 Julie Gordon
Julie is originally from Scotland ????and has lived in Athens for almost 20 years now! She has a PhD in biology and currently works in the research lab at the UGA vet school.
When she joined Creed back in 2014, it was the first time she had ever set foot in a gym. In her own words, "I didn't know what a burpee was, had never touched a barbell or a kettlebell, didn't know what AMRAP, EMOM or WOD meant and had never ran in my life (except when I was forced to in high school PE class)." 8 years later and she has fallen in love with the fitness lifestyle and Creed culture so much that she decided to join our coaching team! She has been coaching with us for about 4 years now and loves the opportunity to get to help others in the same way Creed coaches helped her get to where she is today.
In addition to working out at Creed, Julie loves obstacle racing and rucking (the more miserable the better!) and has run (and rucked) many half marathons!
Her favorite part about coaching at Creed? "I love working with people that are in the same position I was when I first joined. I enjoy watching them learn new things, challenging them with heavier weights and encouraging them to push themselves harder than they thought they could."